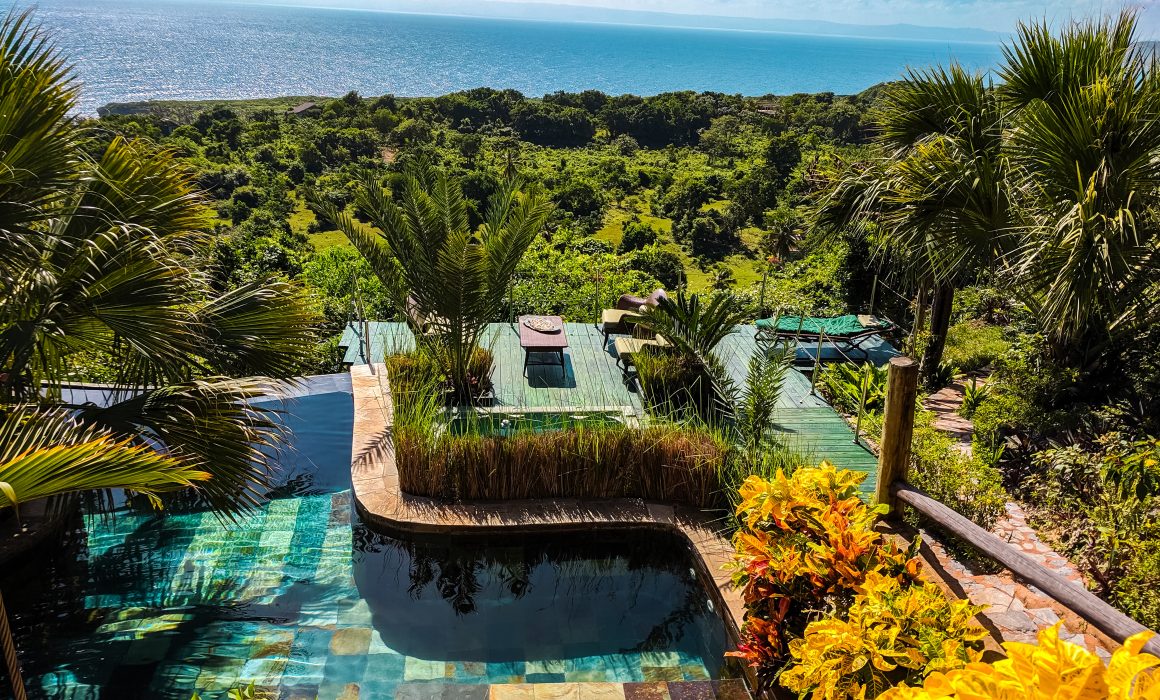 By: Naureen Chhipa @WhereToNau
Attention to detail, jaw-dropping views, and the best of hospitality; I found all that and more in Casa el Paraiso. This Airbnb was one of my favorite stays in all of Samaná. The Owners are travelers, and they've decorated and nicknamed each room after a country they have traveled to. Waking up in this place was an experience I'll never forget! Thanks, @sun.sand.spirit.dr , for hosting and sharing this hidden gem with me!
I've often wondered what heaven looks like and have even fantasized about what my personalized heaven would be. In"heaven," I can breathe under/walk over water, I can turn liquid into ice and breathe out fumes of fire that melt all my worries away. I am at peace and in harmony with nature, surrounded by beautiful things money can't buy. I still find myself on planet earth, but let me tell you, staying in Casa el Paraiso came pretty close to my ideal heaven and is now my heaven on earth.
I love staying at Airbnb's around the world; they provide you a taste of everyday life and culture in the country you're visiting.
Arriving at Casa el Paraiso
Casa el Paraiso is located in Las Galeras, Samaná. It's about a 3hr 30min drive from Santo Domingo or a 4hr 45min drive from Punta Cana. I highly recommend getting there before sunset, as the road turns to pitch dark with limited street lights and signs along the way. It's easy to get lost if not familiar with the area. If you need help arranging your transportation/stay there, contact @sunsandspiritdr; they can host and organize everything for you!
We stayed in room number two, surrounded by a marine decor representative of the humpback whales that from mid-December to late-March congregate the area. They can be seen from almost every room, swimming freely and giving birth to a new generation. Most of the bungalows are eco-friendly and alfresco (with a wall missing); this setting makes for the most spectacular views! There are mosquito nets in every room, but we didn't find them necessary. Due to the elevated altitude, bugs were not problematic. The lack of ac was also barely noticeable due to the cooling winds. If bad weather were to occur, there's a protective wall that can seal and cover the room. There are seven rooms available, including one featuring closed doors/ ac and the newest addition room #7 featuring an in-room jacuzzi. You can also rent the entire villa, which can accommodate a total of 15 guests.
This Airbnb has common areas shared with the owners (Santo Domingo Veterinarians Nora and José), a handful of playful/friendly dogs, witty parrots, tranquil koi fish, and guests staying at the other bungalows. There's an open kitchen, so you can bring your groceries/ beverages to cook. If you want to relax and lay back, they have an Italian gourmet chef (Mirko), who can cook you anything you'd like to eat! The infinity pool, jacuzzi, and human-made beach are nestled atop cliffs overlooking the Samaná Bay and surrounded by the never-ending lush jungle. There's also a shared bathroom offering the best views in town!
Here are my favorite rooms: ROOM 1
Nicknamed "La Marina" and often called the most romantic room in this entire villa due to a massive-natural- raw- coral rock filled with cascading candles that can be lit during night time. This room features a queen-size bed and sleeper sofa, accommodating a max of 3 guests. I can't decide my favorite part of this room; The raw coral rock wall, the completely open bathroom with a rooted shower and toilet facing the jungle, or the hammocks overlooking the jungle and sea below.
ROOM 5
Nicknamed "Africa", this room is exotic and wild. I truly felt I was on safari in Africa as I walked through and marveled at all the well-crafted furniture pieces. My favorite room in this entire villa; Featuring its own Koi fish pond and completely open double-walls, enclosing jungle, mountain, and sea in a one-of-a-kind stay. This room can accommodate two guests.
At the time of our visit, Room #7 Nicknamed "Morocco", was not yet finished. I'll have to come back and give it a proper review, but I'm pretty confident it ranks in the top 3!
This hand-crafted Airbnb uses recycled objects that are repurposed and used as furniture and decoration pieces. Here are some of my favorites!

Wanna know what I thought of my trip to Bali Vs. Samaná? Give This a read!
https://www.wheretonau.com/post/samaná-over-bali-11-reasons-why
Thanks for Reading!
-Nau