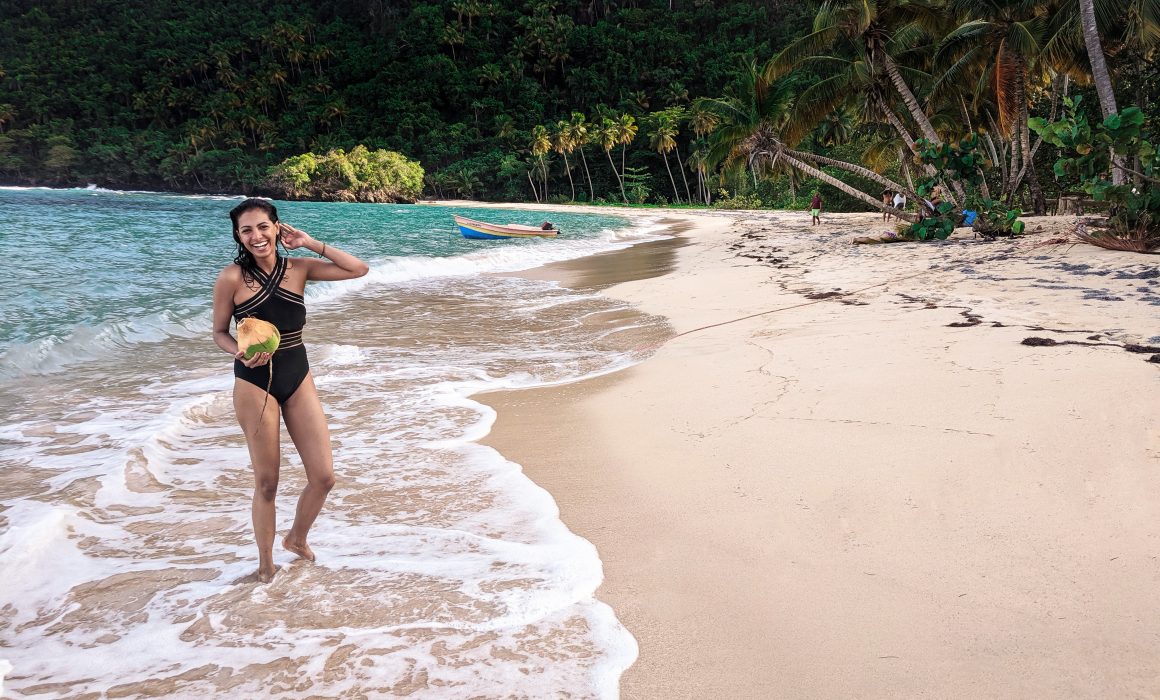 Samaná over Bali? 11 Reasons why
By: Naureen Chhipa @WhereToNau
So, where is Samaná exactly? Samaná is the hidden gem of the Caribbean island that is the Dominican Republic. Located only 4 hours away from the world-famous Punta Cana, Samaná is anything but touristy. Having traveled and explored both places in 2 months, I can honestly say I fell in love with Samaná and was a little disappointed with Bali. Perhaps the anticipation of overly hyped Bali on IG was at fault, as when I got there and even traveled around the Island, all I kept craving was the secluded lush jungle lined with coconut trees and waterfalls that I found in Samaná. Don't get me wrong; I still loved my trip to Bali and found all that over there, but I had to travel a far distance to see it all — it was just not what I was expecting. With that said, Samaná is not for everyone either. If you like to party, be social, have fancy cocktails, and cure your next-day hangover by temple hopping and shopping, Bali is the perfect place for you. So, who is Samaná? Samaná is for that person looking to disconnect from the world and connect with the inner self. Samaná is for that person looking for adventure. Samaná is for that person that prefers nature and eco-living over humankind luxuries.
So without further ado, here are the Top 11 Reasons why I prefer Samaná over Bali:
1. Airfare Cost —The Average round trip plane ticket from NYC to Santo Domingo can range between $180-$360+, where the average round trip plane ticket from NYC to Bali ranges between $650-$800+. That's an average savings of over $470!!
2. Travel Time– It's effortless and affordable to find a direct flight from NYC to Santo Domingo, making your total travel time of 3hr 34min. From the capital, Samaná is about a 2hr 38min drive. For Bali on the other hand, you will need multiple layovers, making your total travel time 23hrs+
3. Samaná is not yet as touristy as Bali– Thanks to Instagram, Bali has become one of the most touristy places in the world. I kid you not; I often found myself talking to more foreigners than locals! This was mostly the case when exploring Denpasar, Kuta, and Uluwatu. On the other hand, Samaná and The Dominican Republic in general (excluding Punta Cana) is mostly inhabited by locals. So brush up on your Spanish before visiting!
4. Having the Jungle / Rainforest & Secluded Beaches all in one spot—
Sure, you can find all of this in Bali, but you will have to travel far to see it all. In Samaná, it's all within 10 min distance at max!
5. Being Isolated — It's most likely that you'll have the area all to yourself!
6. Involuntary Disconnect — Sure, we all say we'll put the phone away and enjoy nature. But what if you found yourself having no electricity & wifi? For sure, Samaná is plugging the cord on ya! The Dominican Republic still has power shortages, and sometimes the rain is so heavy that the wifi towers won't pick up the signals, leaving you social media less. I call that the perfect time to meditate, gaze at the starts if its night time, catch up on some reading and have lots of "me" time! In a way, it's an all-inclusive spiritual retreat!
7. The beach is better for swimming — Finding a beach to swim in Bali was a huge challenge! We visited over ten beaches and only found one where the waves would not destroy us. However, the moment was bittersweet since the beach was full of seaweed, even when going deep in! That's a real bummer when all you want to do is swim! If you're a surfer, then you'll love Bali, the waves are just out of control (I almost drowned and had to be rescued by a surfer). If you leave Bali, you'll find nearby islands with better water for swimming. This was not the case in Samaná; the water was perfect for swimming! The temperature was pleasant, and the waves welcoming, I could not leave the water!!
8.Paradise looking a little dull and boring? — In Samaná, you can go zip lining in the middle of the jungle, take a donkey ride to refreshing waterfalls, go island hopping, hike the wilderness, visit a fishing village and explore the picturesque main town area!
9. Humpback Whale Watching — If you visit Samaná at the right season (from December to March), you'll witness "The Circle of Life" and nature at it's finest. Every year, more than 2,000 Humpback Whales make their way to the Atlantic Ocean's warm waters, a.k.a Samaná to reproduce. So, not only will you see Humpback whales, but you'll perhaps witness them being born! How amazing is that?!?! Definitely on my bucket list!
10. Location and Size– Nestled upon hilly rows of coconut trees, lush jungle, waterfalls, secluded beaches, and rain forest, Samaná is the ideal paradise for nature lovers! It's also very compact compared to Bali. Bali is a huge island, and to find all of the above; you're looking at hours and hours of driving. In Samaná, you can experience it all without rushing in one day! However, if visiting Samaná, I highly recommend spending at least four days.
11. Samaná is still wild — It all boils down to this; Do you want to go to the jungle or do you want to "say" you went to the jungle? Bali and Tulum are very commercial, so if you wish to see some nature but also party, I would go to either one of those places. Samaná is not that. Now, that can be a good thing or bad, depending on the traveler. Samaná is wild,unpredictable (weather-wise), raw, unspoiled, and utterly beautiful. It's also underdeveloped, with really rocky streets, but so is Bali. There's no nightlife unless you go into town. However, you can go to a colmado (bodega), pick up a few beers and gaze at the stars viewing an unpolluted sky at a secluded beach. Don't get me wrong, there are plenty of parties held in Samaná, but these are private events. Some locations/ accommodations do offer night entertainment with live music, food, and drinks. As I mentioned above, Samaná is very unpredictable, so due to electricity or mother nature, all festivities may be canceled. I think the number one thing you need to experience Samaná fully is being willing to travel with an open mind. Be open to adventure, be patient (everyone is on island time over there), dare to dance in the rain, and let go of, and I'll assure you Samaná will not disappoint.