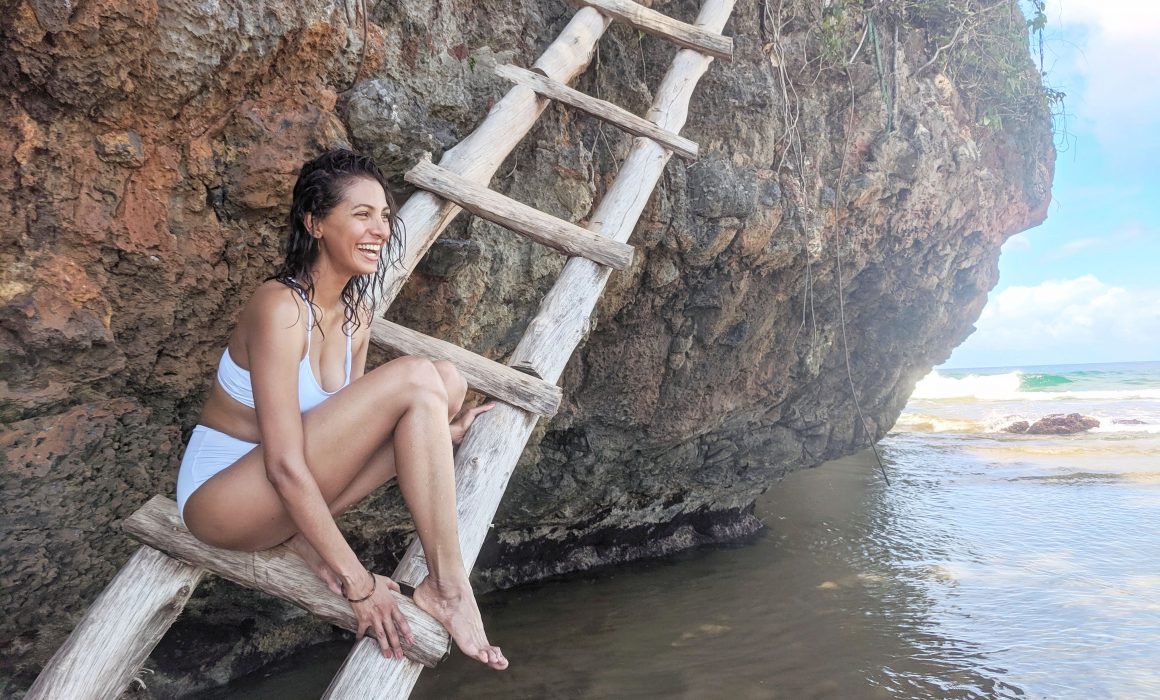 By: Naureen Chhipa @WhereToNau
It was November in NYC, and I was suffering from the standard "winter blues." I was sick of fighting the wind as it kept re-arranging my hair in ways that made me look unkempt and burned out. I was having brunch with my dear friend Zaira Druding, founder of Sun Sand Spirit DR; we share a passion for travel. She chaperones and coordinates trips to the Caribbean island of the Dominican Republic; It was a match made in heaven. We started talking about possibly traveling together to the Dominican Republic. A couple of mimosas later, we had already booked a four-day trip to explore the northeastern coastal bay of the Samaná Peninsula on the Caribbean island. I had been stalking her Instagram @sunsandspiritdr and was now beyond excited for our soon to come girls only escapade! All I wanted was to unplug from the hectic city life. I wanted to lay on a secluded beach and soak up the sun, feeling the sand under my feet washed away by the soft waves, having my spirit be one with nature. "I know the perfect place," she said and took me to my new found favorite spot to be a hermit…Unique Hotel!
I've never seen so many coconut trees together! There are hills and mountains filled with them on this Caribbean island, far too many for the human eye to count! I found myself surrounded by nature; Waking up in the middle of the Caribbean rainforest with heavy rain or going to sleep dark with no electric power. The lack of trendy bars and human-made Instagrammable photo-taking spots made the experience authentic. I never felt that was the "Samaná" they wanted visitors to see– that was the ONLY Samaná there was! Wanderers, Locals, and volunteers from all over the world instead of tourists; the Samaná peninsula has something to offer to us All!
Welcome to the Jungle
We took an early flight from JFK, departing at 6 am and landed in Santo Domingo (the capital) at 9:03 am. It's Dominican tradition to clap once the plane lands safely, and prompted by all the zealous passengers, itching to get up from their seats, we began to clap with a release of joy in expectation of the journey to come. I always love arriving early at a destination; it makes me feel I have the entire day ahead of me. We rented a car right outside the airport and began our 2hr 31min drive towards the Samaná Peninsula. The road was beyond scenic; all we saw was an unpolluted raw jungle.
Arriving at Unique Hotel
Unique Hotel is located outside the main town of Samaná, towards the beach area. They have several accommodation options depending on your budget and preference. From camping grounds, shared hostels, hotel rooms, and a two-floor beach house with a private kitchen and chef, what's not to love? All accommodations are Eco-Friendly, which means no AC and a cold shower if the electric power is out. But do not worry, that also means a night sky, full of stars and sharing stories via candlelight dinners with a group of new-found friends.
We stayed in the main hotel with a minimalist room offering a balcony boasting of fantastic jungle views. Every morning, we woke to the sound of rain, some of the perks of staying inside the rainforest! The rain would only last a couple of hours, cooling down the grounds and opening the skies for new adventures.
Most Rooms offer complimentary breakfast. Here we're having a traditional Dominican breakfast made to perfection! On my plate: Mangú (first boiled, then mashed green plantain), Salamí (deep-fried), and pickled onions. Another version of this Dominican breakfast is "Los tres golpes," which adds fried eggs and local white cheese deep fried. To drink, we're having black coffee and fresh passion fruit juice.
I love Dominican breakfast, and being Dominican myself grew up eating it all the time! A variation (my personal favorite) is substituting the green plantain for a ripe yellow one. The flavor is sweet and melts in your mouth; I find it the perfect balance between sweet (the plantain) and salty (the salami.)
For those wanting to mingle, the foyer is the right spot for you! Its warm and welcoming boho decor will make you feel right at home! Perfect for interacting with other guests, reading a book, virtually working from your laptop (internet speed is at it's best here, they also have high-tables and stools for your computer), and grabbing a drink (the bar is right across). My favorite part is letting loose on some nights when they offer live music, be ready to dance the night away.
Ready to leave your room? The beach is a short 5 min walk away or when staying at the beach house, right outside your room.
See? I was not kidding when I said you would have the entire beach to yourself!
Who is Unique Hotel best for?
Solo Travelers looking to disconnect from the world. I recommend staying at the main hotel, it's safe, and you will have common areas such as a bar/restaurant for interaction with other guests if desired.
Couples looking for a second (or first) honeymoon. I recommend staying at the beach house. You'll be secluded from the rest of the other guests, plus you'll have your private kitchen and chef upon request for a romantic candlelight evening dinner full of nature and stargazing.
Family traveling. The beach house can perfectly accommodate 1 or 2 family groups, so gathers your fam and friends! This beach house is perfect for family reunions.
Backpackers with their budget-friendly hostel and camping grounds, this spot won't break the bank!
If You go
I recommend contacting Sun Sand Spirit DR. They can host your group and coordinate all activities during your stay. Traveling solo to Samaná can be a bit more challenging than let's say Santo Domingo (the capital) or Punta Cana. Remember that this is a legit jungle. There are barely any lights or signs in the streets, English is not commonly spoken in the town, and the GPS/WIFI will not always work. We rented a GPS with our car at the airport, and it barely worked! Getting lost in a country that you're not very familiar with can be overwhelming. Sun Sand Spirit DR can help you plan your stay so you can relax stress-free! Zaira being Dominican her self and a true islander can offer a locals insight with tips and guides on maximizing your time there.
Wanna know what I thought of my trip to Bali Vs. Samaná? Give This a read!
https://www.wheretonau.com/post/samaná-over-bali-11-reasons-why
Thanks for Reading!
-Nau